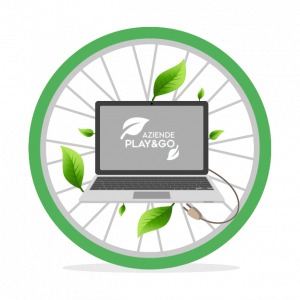 Problem. Addressing and mitigating commuter-generated traffic requires engaging public and private stakeholders through a new innovative and collaborative approach that can focus not only on supply (e.g., roads and vehicles), but also on transportation demand management. Now, COVID-19 is generating rapid change in the way people work, act, and move, which could pave the way for more change in mobility behaviour. Hard work is needed to shape the new behaviours that will form in the future. The aim of Aziende Play&Go is to propose an approach to home-work mobility able to support the company Mobility Manager (MM) acting on the promotion of sustainable mobility and transport demand management by analysing the problems, needs and habits of employees, trying to orient them towards new sustainable transport habits.
Solution. By leveraging behavioural change, technologies and business model, this Aziende Play&Go aims to act on the resolving factors that hinder home-work modal shift by providing services, information, recommendations and incentives in order to:
Support companies in adopting policies and initiatives, in planning and implementing actions and measures, in identifying the most sustainable mobility solution;
Encourage workers to significantly change their mobility patterns by making them an active part of the solution. The solution we have in mind exploits the Play&Go platform to promote sustainable mobility among employees. In particular, the platform supports tracking and automatic validation of trips taken by employees (Play&Go Mobile App), and the monitoring of aggregated data about employee's performance by Mobility Managers (Aziende Play&Go Web Console). Within the Aziende Play&Go solution, the mobility means to be promoted, as well as virtual rewards, will be customized to the needs and objectives of the users involved in the identified pilots. At the same time various forms of real incentives (monetary, other job-related benefits) will be defined with the Mobility Managers and employees and validated in the pilots

.
Cross-sectoral impact. Positively transforming the way people travel for the benefit of society requires a deep transformation of workers' habits and behaviours, which must be based on comprehensive impact assessments and simulations that take into account social, health, environmental and climate impacts, as well as economic impact. Aziende Play&Go aims to propose an innovative solution that provides a Console of data, information, recommendations and simulations for Mobility Managers to assess, also through what-if analysis, the environmental impact of employee commuting, to evaluate changes as a result of specific measures and actions and to plan optimal and sustainable employee mobility strategies.